The Storage Solution for your Car Seat – An Overview
There are already a lot of things in existence that are supposed to make life on the road better, to help us keep the little space inside our vehicles tidy and not to lose track of our equipment. There are several systems available that are either designed without much passion and/or don't live up to our expectations.
That's why we have seriously engaged in developing a storage solution that is not only functional but also beautiful to look at.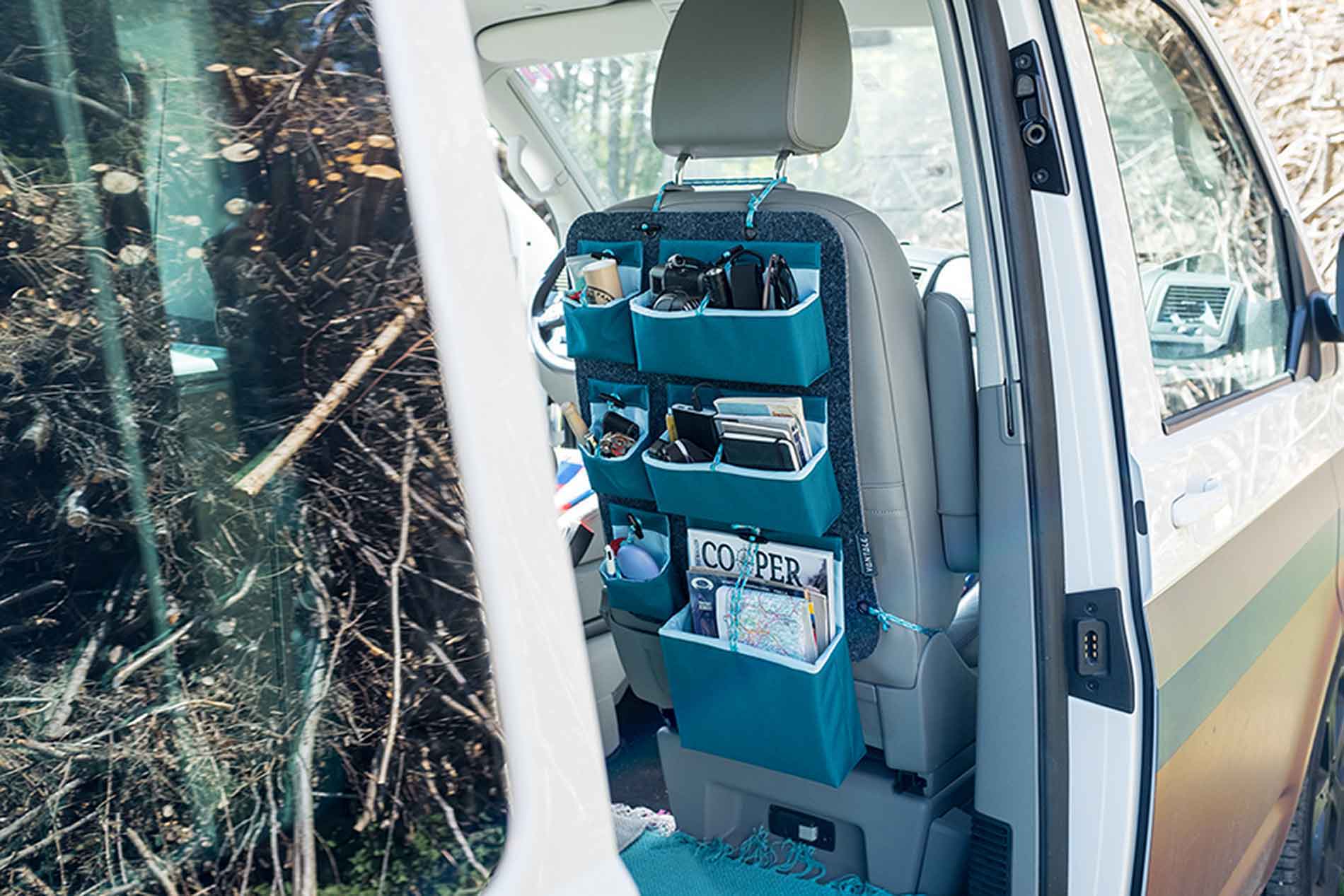 Our lives are exciting, and so we have designed an exciting storage system for you. No matter if it's your everyday life with kids, an adventurous journey, or a weekend trip – you have everything you need with you. We didn't reinvent the wheel, but we have tweaked it in a way that it will adapt to your needs and be a visual highlight inside every car, camper van, or motor home. The RYGG doesn't merely keep everything in order when out and about or managing family life, but additionally radiates only positive vibes. The RYGG automatically presents itself Instagram-compliant on each of your pictures. This could mark the foundation of your career as an influencer, moreover, you won't waste any more time looking for important gear like camera or selfie stick … :)
We'd like to bring a sense of order and coziness into your van life, which can get chaotic pretty fast if you don't always take care in stowing away your equipment properly every time. We also ensure to only use materials that are very durable, so you can enjoy our products for a long time to come.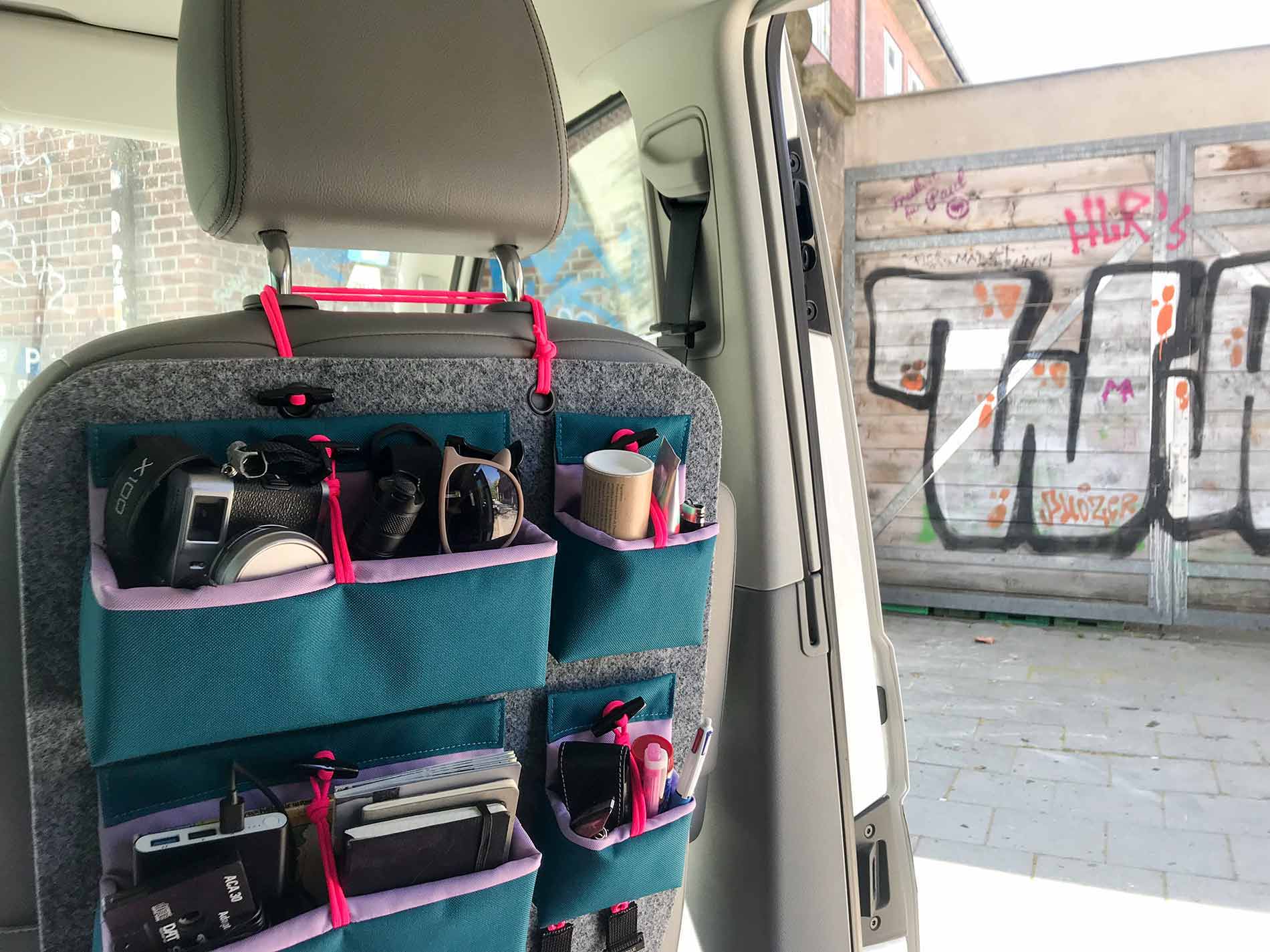 The RYGG – The perfect Storage System for your Vehicle
The Baseplate is made of sturdy felt fabric and serves as the foundation of the RYGG. It is fitted with 18 push buttons to which the Pockets can be attached individually. It measures 58 x 42 cm (22,8 x 16,5 inches) and weighs about 0,4 kg (0,9 lbs).

The Pockets are available in different sizes: Small (9,5 x 14,5 x 4 cm / 3,7 x 5,7 x 1,6 inches), Medium (22,5 x 14,5 x 6 cm / 8,6 x 5,7 x 2,4 inches), Large (22,5 x 30,5 x 8 cm / 8,9 x 12 x 3,1 inches), and Bottle (9,5 x 30,5 x 8 cm / 3,7 x 12 x 3,1 inches).
For increased stability, Pockets in sizes M and L as well as the Bottle Pockets are padded with a layer of sturdy felt.
The Pockets can be attached to the Baseplate by use of the push buttons.

Hooks and Loops are available in several versions and can also be attached to the Baseplate at the desired position.
The stable Baseplate keeps its shape even when the RYGG is fully loaded. Fill the Pockets with everything you can imagine – snacks, accessory, documents, entertainment devices, any of the small things you like to have within reach when on the road. Our hanging storage system can easily carry a total workload of 10 kg (22 lbs) distributed to the attached Pockets and Hooks.
The Pockets are made of PVC-coated, water-repellent and easy to clean polyester fabric.
The flexible push button system enables you to quickly detach a Pocket and take it with you to the next shower or beach. Rearranging the Modules is also very easy, just remove them from the Baseplate and find a new configuration that suits your current needs.
The storage accessory in its entirety is attached to the car seat by means of two Fastening Cords with toggle buttons. Even when the Pockets are loaded, the seat can still be turned around.
Additional Pockets and Hooks are available at our store, thus you can make changes to your setup subsequently should the occasion arise without having to buy a whole new product. Sometimes sustainability can be beautiful.
As for composing your new RYGG, you can get creative yourself or choose a suitable product from the ever growing range of prearranged RYGGs.
The specially built Customizer helps you keep track of your creation and can give you a first impression of your individual product. Should you have any ideas that are not realizable with the Customizer, give us a hint – we are open to any input.
Do you own a camper van converted by yourself with lots of passion and therefore you don't exactly want some run-off-the-mill furnishing to go along with it? No problem, write us an e-mail or visit us at our workshop, we'd like to talk about the details and manufacture an individual piece of design for you.
Home is not a place – it's a feeling.
Whether as a single nomad, as a couple, or as a family, the same rules apply: Cleanliness is next to godliness! This is even more important when living in small spaces, so you can feel at ease on long journeay as well as on short trips.
So that you no longer have to worry about where to put what and where your new storage system won't do any damage to your expensive camera by not holding the weight, we have created a beautiful, sustainable and durable product for you that really does what it says on the tin and adapts well to all the requirements of camper life.
No more road trips overshadowed by questions about the whereabouts of the sunglasses, the passport, the charging cable, etc. Everything is in its place now.
Perfect as a means of storage for trips with kids
When on the road with babies or toddlers, certain things have to be handy all the time, be it for reasons of hygiene or boredom. Equipped with the RYGG, your family is prepared for any situation, with items like toys, snacks, beverages, handkerchiefs, or diapers always within reach.
Made with Love by us for You
Our storage solution is manufactured right here at our Workshop in Munich-Obergiesing. All materials have been selected carefully and tested for durability. If you'd like to gain an impression of the quality of the fabrics first, feel free to visit us and take a look around.