We have developed a hanging storage solution that will withstand all of your adventures. What's more, it perfectly matches any car seat.


Utilize the space behind the back of your seat. Freely change the positions of the individual modules.

This is the RYGG. Designed for you and your road trips, made by hand and with love in Munich, Germany.
1x Baseplate (blue)
2x Pocket Small
2x Pocket Medium
1x Pocket Large
1x Aluminum Hook
1x Aluminum Double Hook
1x Set of Fastening Cords
All modules can be rearranged at your convenience.
This is possible due to our
Push Button System
.
Higher capacity
The RYGG and its modules have been designed to exceed the maximum capacity and load of any other comparable storage system.
Each Pocket is fitted with a cord, which can be used for additional stabilization in conjunction with the attached toggle button.
The RYGG is variable
Before every road trip, you decide which module to place on the Baseplate and where.
Turning around your seat – not a problem
If your camper is equipped with rotatable seats you can still turn it around, even with a mounted RYGG.
Made by hand

We manufacture the RYGG and everything that goes along with that in our own workshop in Munich.
Width: 42 cm / 16.5 inches
Height total: 70 cm / 27.6 inches
Height Baseplate: 58 cm / 22.8 inches
Depth: 8 cm / 3.2 inches

Empty weight: 1,0 kg / 2.2 lbs
Strong and robust felt for the Baseplate
The Baseplate is the foundation of your RYGG and has to carry the weight of your equipment. A substructure like that has to be solid enough to endure this strain for a long time without deforming. On the other hand, we don't want it to look too rigid or uncomfortable. The material must be easy to clean and should not absorb humidity. However, if there has been rain pouring inside your window, the fibers should be able to dry fast. All of these requirements are met by our Baseplate.
Push Buttons with strong locking force

All modules are attached to the Baseplate by push buttons. For the loaded pockets to stick to the Baseplate, we have opted for buttons with extraordinarily high strength.
Robust outer fabric and inner lining

Our Pockets are made of an abrasion-resistant, and easy to clean outdoor fabric called OXFORD®.
Cleaning
The Pockets can be easily cleaned with a damp cloth.
Price including German VAT. Shipping costs are not included.
Or, design your own RYGG!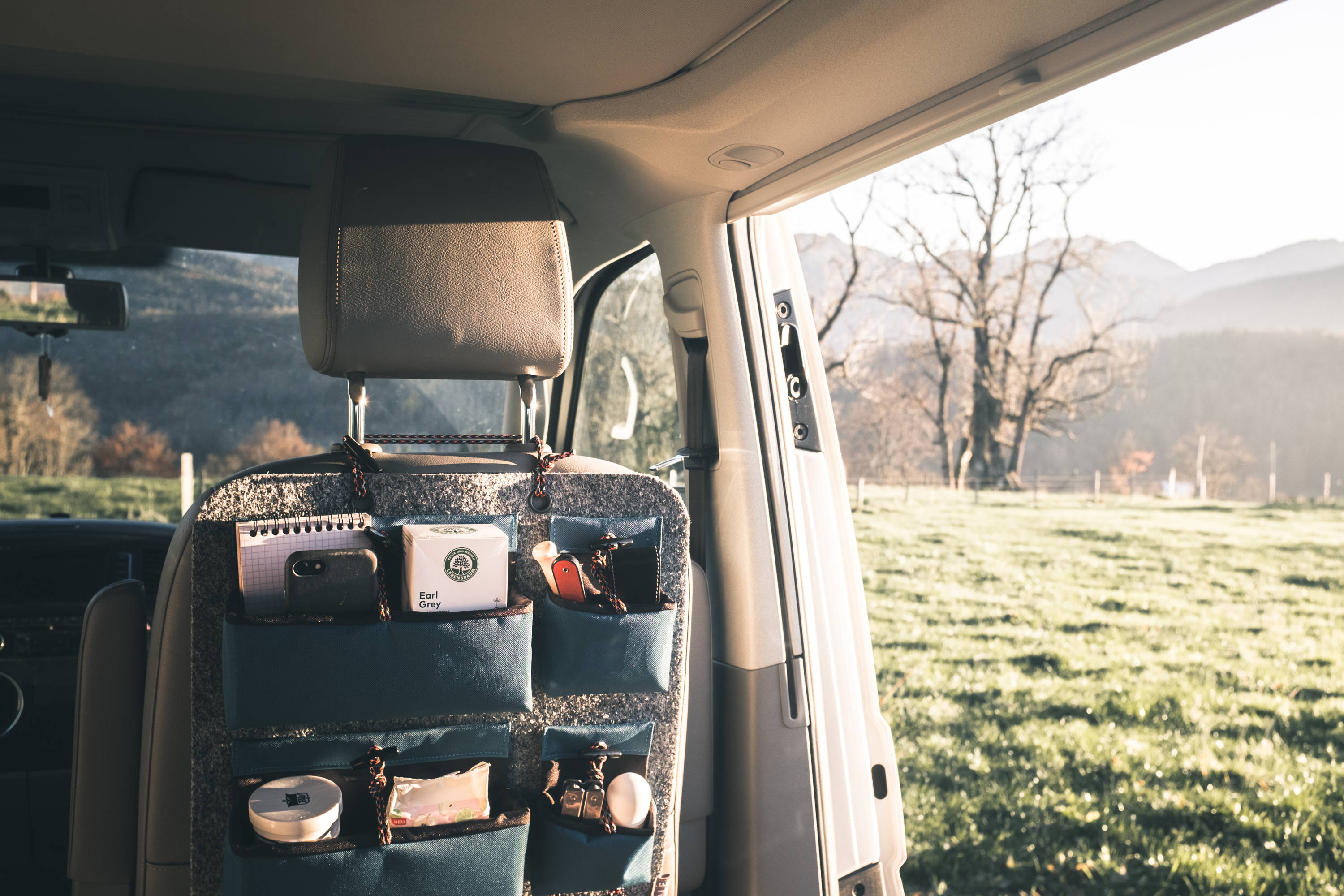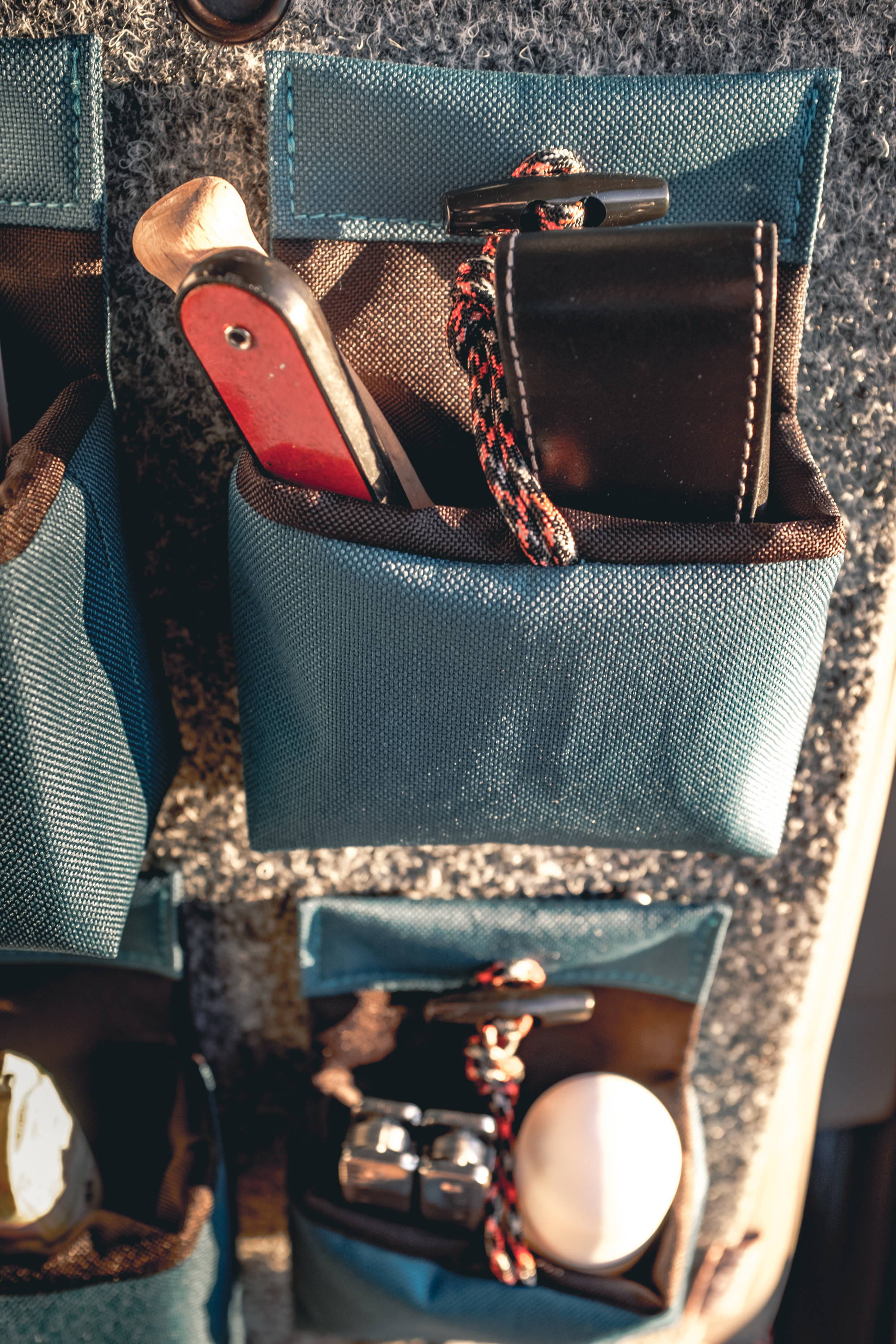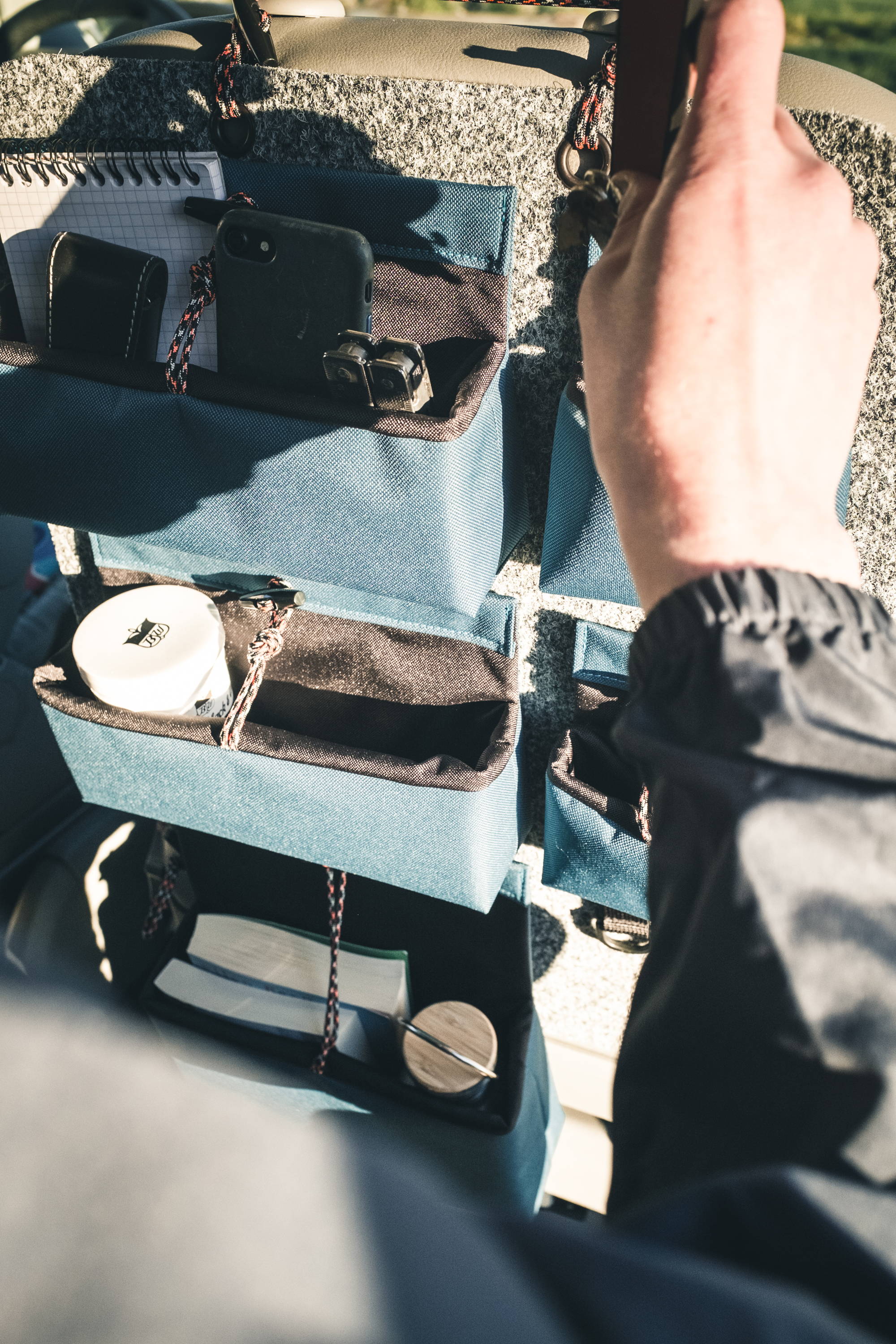 ---
THE RYGG – YOUR TRUSTY COMPANION ON ALL OF YOUR ROAD TRIPS
We have created an individual color spot for your camper van. The world's first changeable hanging storage system – high-quality, always at your service.
It only starts to really blossom when you fill it with your gear, but due to the lean grid-based design it never looks cluttered or distracting. On the contrary, it always keeps shape, while you keep track of your equipment.
The pockets are lined with stable felt sheets which keep your RYGG from ever sagging.
Everything is neatly stored in its place. The pockets' size is just perfect for all the items you frequently use when on the road.
Without looking about for ages you immediately find what you need, since there is no zipper or anything else you'd have to open first.
Never travel in a mess again.